All the ghoulish gossip from the Puppet Combo Direct
If you ask me, Puppet Combo, formerly Pig Farmer games, is basically the Nirvana of low-poly, Slasher-inspired indie horror games. So far as to say that while they may not have pioneered the genre, they most certainly brought it into the public eye. If you have even a passing interest in the genre it is guaranteed that you will be familiar with at least one of their titles. 
While I think Power Drill Massacre is their Smells like Teen Spirit and Nun Massacre is their Heart Shaped Box, with the amount of youtube let's players trying to make as much content as possible out of their library, it really is hard to say which of the many macabre titles has had the largest impact on the indie horror scene.
With this in mind, many fans find themselves eagerly awaiting news of future releases. For many, this curiosity is sated by the exclusive content offered on their Patreon. Us found outside the proverbial doors to the kingdom must wait for public announcements, which, unsurprisingly, don't come often, as the team really consists of one Benedetto Cocuzza. While this has been supplemented as of late with releases from his newly founded publishing company Torture Star, it is still not as plentiful a pipeline of news as I am sure some would prefer.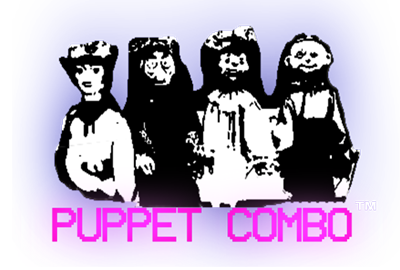 But all that is set to change, as Puppet Combo has joined the ever-growing trend of forgoing traditional game announcements, and setting your own presentation up. Similar to things like the Capcom showcase or Sony's state of play, the Nintendo-riffing Puppet Torture Combo Star Direct seeks to blast the general public with a buckshot of new titles. Some are ports of existing PC-only gems, while others are completely new titles unseen by the public eye. 
After watching the rotating grid lines and washed out visuals of the Puppet Combo logo dance around for a half hour, the show started with a line of floating blocky white text, straight from a VHS player that read "are you ready to die" and with that, the show had begun. Images of terrifying games scrolled by on the screen as the announcer prepared us for what was to come in a ghastly voice, advising that we procure a barf bag and reassuring us "To avoid fainting, keep repeating: it's only a game, it's only a game, it's only a game"
The aesthetics of the presentation were very much in line with Puppet Combo's brand of nostalgia-fueled grain that transports you back to the days of video rental stores. Each new offering was presented with the washed out visuals of an upcoming attraction on a VHS that had been viewed too many times. With red text on a faded blue background revealing the title, status, and publisher of each title. A lot was shown that night, so please join me as I take a moment to go over each course in this blood-soaked buffet of upcoming carnage simulators.
THE APPETIZER: BLOODWASH ON CONSOLES
The show started with the announcement of Bloodwash on consoles. This tiny terror by Jordan King is the game that launched him into the spotlight, and for those who can't shell out for a gaming PC, this is an excellent way to experience it for the first time. The story revolves around Sara, a pregnant woman with a bad lot in life. When an inconvenient broken washer sends her on a trip to the 24-hour laundromat, she finds herself worrying not only about her wash, but also the threat of the maniacal Womb-Ripper.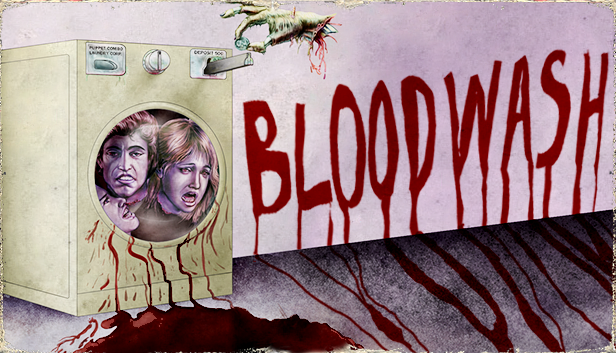 THE FIRST PLATE: STAY OUT OF THE HOUSE
It was nice to see more of Stay out of the House, the upcoming survival horror immersive sim that Puppet Combo has been polishing behind the scenes for some time. I personally feel like it has been sitting in my Steam wishlist as long as I have owned my PC, and I have been eagerly awaiting any fleshy, gory, morsel of information.
With this premiere, the world of Stay out of the House has been more fleshed out. The title revolves around a young woman named Roxanne who must escape a freak-filled ranch and if possible, save the other victims. With the growing love for immersive sims in the modern era I am not shocked that this is the route Puppet Combo has decided to go. It will be interesting to see how it is handled, as most Puppet Combo games are typically linear tales meant to terrify the player with a tight, anxiety-building experience.
The gameplay shown highlighted several instances of interactable environments that I am sure clever players will use to keep the killers at bay. The map itself seems to boast multiple different areas, including an expansive outdoor area. The addition of the player-directed survivor AI looks to turn the already nerve-wracking experience into an exercise in watching your six as the player will need to be aware of their surroundings at all times if they hope to save the survivors from their cramped cages. Or if you get sick of watching the Butcher bring his hammer down on another poor soul's skull, you can simply forego it entirely and look out for A-number-one, yourself. This sort of im-sim gameplay loop is surely going to keep the tensions high while engaging the player in a more organic world than other Puppet Combo has offered in the past.
The small amount seen has left me yearning for more, with moments of stealth and chase being shown, as well as showcasing the sadistic nature of the killers and their traps. I am particularly intrigued by the prospect of the killers reinforcing their defenses with each successful player kill. It may be difficult to balance, but if done right, could absolutely add to the wire-snapping tension this game aims to deliver. While they don't show too much in the trailer. It won't be too long until we can get our hands on this to see for ourselves. With the trailer confirming that the game will be launching in July.
PALATE CLEANSER: BOOTY CREEK CHEEK FREAK
The next offering was a trailer for Jordan King's latest release BOOTY CREEK CHEEK FREAK, a humorous horror title about a butt faced man who takes his problems out on anyone dumb enough to dump on the bathroom floor. Fans of the genre know what to expect, albeit with a few more juvenile jokes thrown in to keep the morale high. It is nice to see that Jordan King is willing to walk on both sides of the track when it comes to how seriously he takes his endeavors.
THE SECOND DISH: NIGHT AT THE GATES OF HELL
Night at the gates of Hell is an upcoming first person survival horror game by Jordan King, inspired by the works of Lucio Fulci and other Italian horror masters of the 1980's. Its trailer shows an explorable city environment, and mentions that the player will be hunting for supplies and looking for other survivors. Whether or not the final game will offer more characters than are shown in the trailer is yet to be seen, but even as it stands it does seem like a frightfully good time.
The trailer showcases the arcane world of the game and makes sure to reinforce its survival horror gameplay. With the announcer making a point to highlight the need to hunt for resources and information, From what has been seen it seems safe to assume that this title is going to offer much more than the previous titles Jordan King had made.
The lack of a HUD and the inclusion of an instant death at the hands of the undead will help the atmosphere of this game excel beyond its graphical limitations. Even in the trailer, there are multiple instances of the player navigating claustrophobic environments and avoiding the cold clammy hands of the reanimated menace. Those who think that Zombi on the ZX is too low tech, and Zombi from 2012 is too high tech, then this game is probably the game you've been dreaming of.
With no release date available, those who are eager to take a bite out of this title may have to sign up for the Patreon in order to access the exclusive demo.
MURDER HOUSE: THE GAME: THE BOOK
While I personally have yet to read any of them, the general consensus online is that Regina Watts' novelization of the Puppet Combo games is a great read for fans of scary stories or pulpy pressings. Fans of Murder House will be pleased to hear that the latest in the series is an adaptation of Murder House. So now you can enjoy Murder House on the bus, during church, or while hiding in the attic of a dilapidated house while you wait for a killer family to leave. The title was made available as soon as it was announced, so if you need something to hold you over until the rest of the announced titles release, consider picking up a copy of this creepy chronicle of Easter-themed evil.
THE THIRD COURSE: DEADLY NIGHT
Another premiere for the masses, Deadly Night is Cubyte Games' first release with Puppet Combo, and their first full-length title. The story centers around a hitchhiker named Carol, who has found herself in a peculiar motel, being waited on by a peculiar man. As the night goes on Carol will come to learn that the odd fellow up front was simply the beginning of her troubles. While this title may not have the same scope of some of the other titles shown that night, it is gearing to be another great addition to Puppet Combo library of quality playable horror movies.  
POST-DINNER WINE; NUN MASSACRE: DEFINITIVE EDITION
Nun Massacre: Definitive Edition has made its way onto consoles. No longer can Xbox, PlayStation, or Switch players make excuses for passing up on the haunting hustle and bustle of Nun Massacre, the twitch favorite that helped push Puppet Combo further into the public eye. The game finds the player trying to save their daughter from boarding school after getting a mysterious letter. And as if boarding schools and unexpected correspondence weren't bad enough, they need to escape the psychotic sister roaming the halls in pursuit. Nun Massacre: Definitive Edition is going to bring all of the base game content to consoles as well as the 3 new maps made available, each of which reskins the experience to let the player flee for their lives in exciting, albeit horrifying new locations. Whether it be an abandoned factory, a psycho circus, or the infamous backrooms, each new map is going to replace the environment, killer, and player, letting players mix it up if they've already had their fair share of the base game.
SURPRISE DESSERT: POWER DRILL MASSACRE
The final dish of the night was a new spin on a fan-favorite. For those who enjoyed Power Drill Massacre, one of Puppet Combo's earliest titles, there is a full version of the game in development. While there is certainly nothing to complain about when it comes to the length of Puppet Combo games, I think that people who have been watching Ben's career will be excited to see him go back and expand upon one of the titles that helped him slash his way onto the scene.
With the full release boasting new areas, endings, and mechanics, it is going to feel like an entirely different experience than the short interactive horror film that was the original. Even things behind the scenes, such as improvements to the AI and improved controls are being taken into consideration. It just goes to show you that bringing back something great with a new coat of paint isn't just limited to studios like Naughty Dog or Square Enix.
I do think the most interesting thing for ardent survival horror fans will be the inclusion of puzzles, and inventory management that will require the player to be a little smarter than the typical slasher victim. It is no industry secret that in some Puppet Combo titles the survival horror elements are purely aesthetic, and I am glad to see that there are steps being taken to elevate the gameplay loop of Power Drill Massacre before its full release.
And with that last trailer the presentation quickly ended, again showing the grid lines and static Puppet Combo logo one last time before youtube kicked the viewers into the next video. As the next video started its introduction, I couldn't even focus on the bright-eyed youtube trying to tell me all about Raid: Shadow legends. My mind was filled with the flood of upcoming low-poly horror titles I had to look forward to.
If my summary wasn't enough, then you can watch the stream yourself on YouTube, and once you see for yourself you can wishlist the games show by visiting the steam pages for Stay out of the House, Night at the Gates of Hell, Power Drill Massacre, and Deadly Night
And if you get done with all of that and your thirst for horror happenings is not sated, then be sure to visit DreadXP.com and read more of our frightful features.