Pushing Fast Fluid Movement In Virtual Reality With Hellsweeper
As a fan of Virtual Reality, whenever there is a chance to talk about something cool in VR I jump at the chance. So naturally when I saw Hellsweeper VR which looks like a parkour-based rogue-like but in the depths of Hell. I had to reach out to the team and see how they manage to pull off some of the movements, and their inspirations behind Hellsweeper. Edi Torres the Creative Director and Chalit Noonchoo the Game Director, were all on board for answering my questions!

Justin: Where did the idea for Hellsweeper VR come from?
Edi Torres: Hellsweeper VR is characterized by its intense limitless movement which allows players to run on walls, power-slide, backflip, double jump and more, all while mastering the wide array of weapons and magical abilities at their disposal. We want players to experience pulling off crazy and epic stunts in immersive VR.
At the core of it, the idea stems from our desire to build on our first game, Sairento VR, which was well-received by the community for its intense no-holds barred locomotion system. We wanted to deliver another kickass title that is worthy of being called a spiritual successor to Sairento VR – but with better graphics, improved combat and more innovative gameplay.
Justin: How long would you say Hellsweeper VR has been in development?
Edi Torres: Almost 2.5 years ago, we embarked on the development of Hellsweeper VR. As part of our studio's tradition to develop games closely with the community, we released a public alpha demo of Hellsweeper VR a little over a year ago. We received valuable feedback and had a quick preview of the creative and daring combos that players were able to pull off in the game. We're grateful to all the gamers who helped us shape Hellsweeper VR as we continue our development journey.
Justin: The action looks so fun and fluid, were there a lot of stress tests put into the game's motion for those with VR motion sickness?
Edi: Thank you! We're glad to know that you find the intense action interesting.
Our first game, Sairento VR, released on early access in 2016. It pushed the boundaries of VR movements at a time when VR gaming was just starting to take root. Since then, we've learned a lot more about how to make such an experience accessible to more players. So, in a way we've been doing non-stop 'stress tests' for over five years.
Having said that, we'd love to be able to challenge both seasoned and new VR players alike. Like its predecessor, Hellsweeper VR features some pretty hardcore moves like somersaulting, sliding and wallrunning. They can be toggled on by players with guts of steel who would like to experience Hellsweeper VR in its full and unbound glory.
Justin: Are there going to be comfortability options for Hellsweeper VR?
Chalit Noonchoo: Definitely. We're developing an intense action game, which is designed to make players feel as incredible and powerful as possible by juggling enemies in the air, ripping their limbs off using powerful psychic abilities, or even using weaker enemies as a surfboard — you name it! For players who are into this kind of action, we intend to make the game as accessible as possible, no matter how seasoned they are.
Many of these additional features can be toggled on or off depending on the player's comfort preferences such as vision tunneling, locomotion/teleportation settings, free/room rotation, height calibration and more. For example, players who are fairly new to VR might feel more comfortable simply using teleportation to move around. This will still enable them to fully explore their preferred combat style without ever feeling out of their depth or overwhelmed.
Justin: You've mentioned a release for Quest 2 and Steam VR. Any chance we get a PSVR2 release?
Chalit: For the moment, we have our hands full working on bringing the game to Meta Quest 2 and Steam VR, which is slated for release in Q4 of this year. With that said, we're keen to explore other platforms, including PlayStation VR2.
Justin: Is Hellsweeper VR going to be able to be played seated?
Chalit: In short: yes, we provide all the necessary accessibility options to play while seated, such as being able to do room rotation and adjust thresholds for certain moves like crouching to slide. For players with the space or the option, we highly recommend playing the game while standing up as it offers better immersion due to the heavy action nature of the game. When handling weapons as you slay hordes of the undead, nothing compares to actually pulling off crazy power moves with your own body as you play.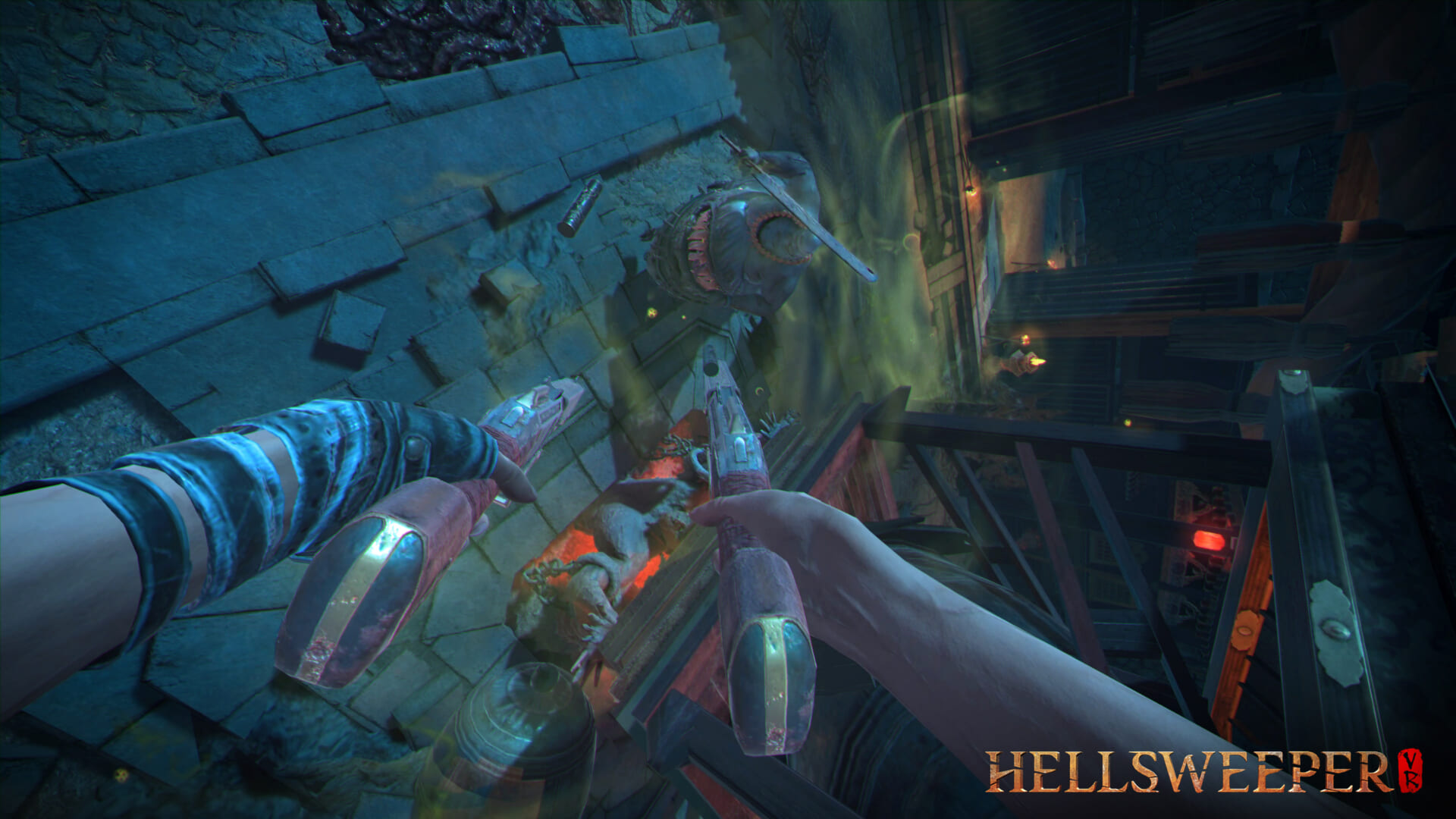 Justin: What were your biggest inspirations for Hellsweeper VR?
Chalit: We envision Hellsweeper VR to empower players to pull off the spectacle combat of games like DMC 5, where earthly physics takes a back seat to moves like air dashing, pulling enemies with a chain hook, or juggling an enemy in the air by shooting them repeatedly. This is the particular reason we choose not to focus on a full realistic physics experience as these are the kinds of moves we want players to experience firsthand.
Another reference is the Witcher series – well represented by videos of Geralt wielding both steel and silver swords, spinning and weaving between enemies and using spells or signs. That kind of deadly grace is what we wanted to translate over into the VR realm, giving players the tools to play out scenes like this. This influenced the gesture system which allows players to easily switch between their skills and summon variants of spells as the situation demands for without missing a beat or wasting any time navigating UI.
Justin: There is a Q2 2023 release date up right now. Any chance we will get to descend into hell by Halloween?
Edi : There's not much we can say about that right now. But we're very active on Twitter, so if you'd like to be one of the first to receive the hottest news on Hellsweeper, including our official release date, keep an eye out on https://twitter.com/HellsweeperVR!
---
I want to thank Chalit and Edi for taking the time to answer my questions about Hellsweeper VR. The rogue-like genre is something I find very fascinating in the VR space and I can't wait to check out Hellsweeper when it launches later this year.


For more interviews, reviews and features stay locked to DreadXP, and go check out the Hellsweeper VR Steam page for more info!