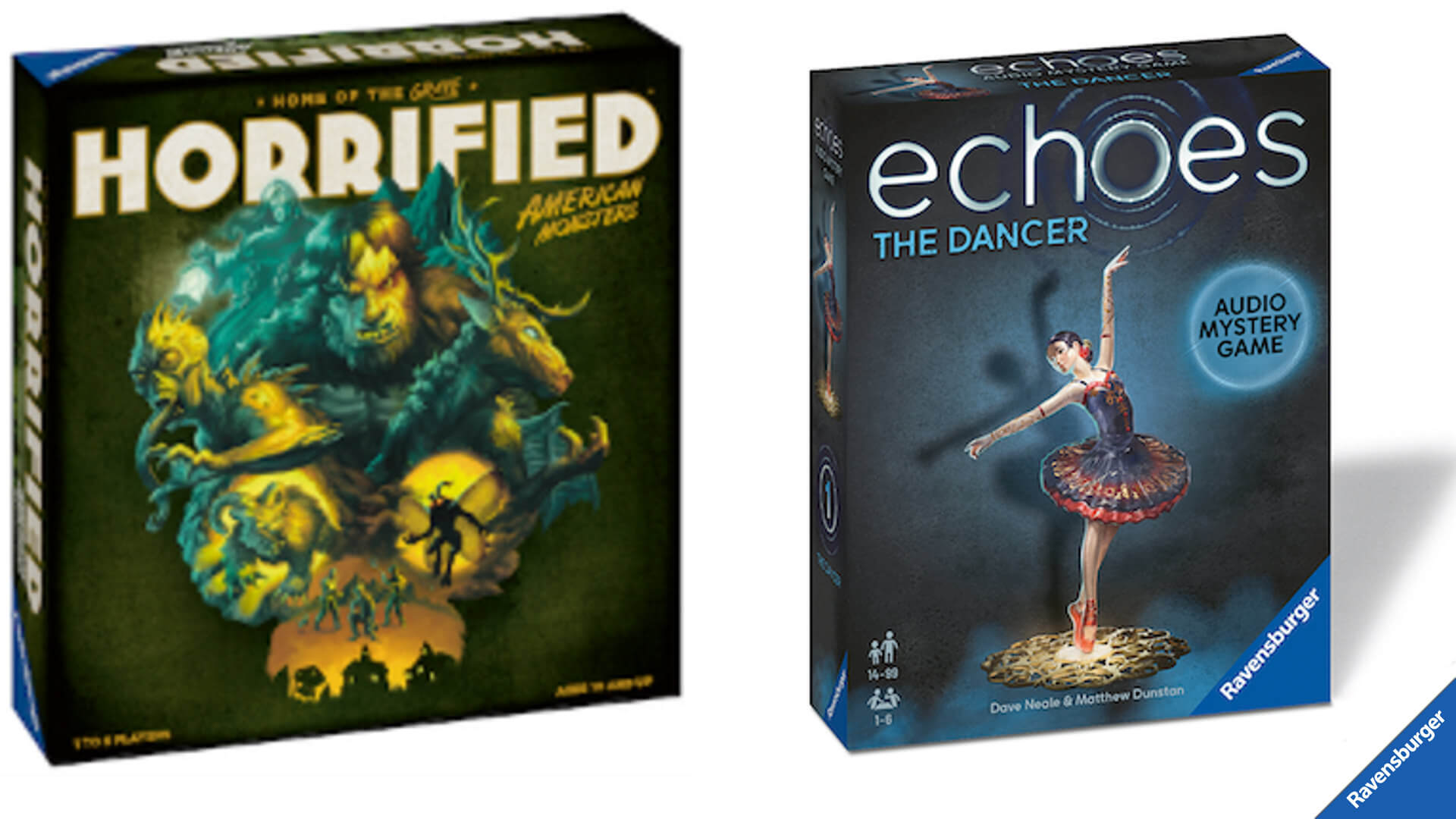 Horrified: American Monsters, echoes: An Audio Mystery Game Announced
Yesterday, long-running publisher of high-quality board games, toys, and puzzles Ravensburger announced two new products. Horrified: American Monsters will be hitting Target shelves in October. echoes: An Audio Mystery Game will be available nationwide sometime during this fall.
Horrified: American Monsters, designed by Mike Mulvihill, features classic American monsters. The first entry into the series, Horrified: Universal Monsters, debuted in 2019. It used classic creatures, such as Frankenstein's monster and Dracula. Developed by Prospero Hall, American Monsters will instead focus on Bigfoot, Mothman, the Jersey Devil, the Chupacabra, the Banshee of the Badlands, and the Ozark Howler. Each monster has their own challenges. Working together and overcoming them will each require their own separate strategy. Gaby Weidling and Gal Klapfer provide puzzle design. It supports 1-5 players, and also comes with an age recommendation of 10 and up.
echoes: An Audio Mystery Game is a card game bolstered by a free companion app. By waving their phone over the illustrated cards, they'll generate sound clues. Between the sounds and the images, they'll have to piece together a mystery while the sharing information they gather. echoes: The Dancer is the first of two stories launching with the echoes line. In The Dancer, players investigate a haunted manor in the Scottish countryside. echoes: The Cocktail will send them to a speakeasy in New York, where they'll learn the truth about Cruel Steve, a mobster. The echoes line is suitable for ages 14 and up while supporting 1-6 players.
Horrified: American Monsters and echoes: An Audio Mystery Game are only the latest to come out of Ravensburger's publishing arm. The company, which was founded in Germany in 1883, is based in Ravensburg, a city located in Upper Swabia. Villainous, a board game developed in partnership with Disney, became one of the North American division's recent bestsellers since its release. You can see the entire US collection on its official website.