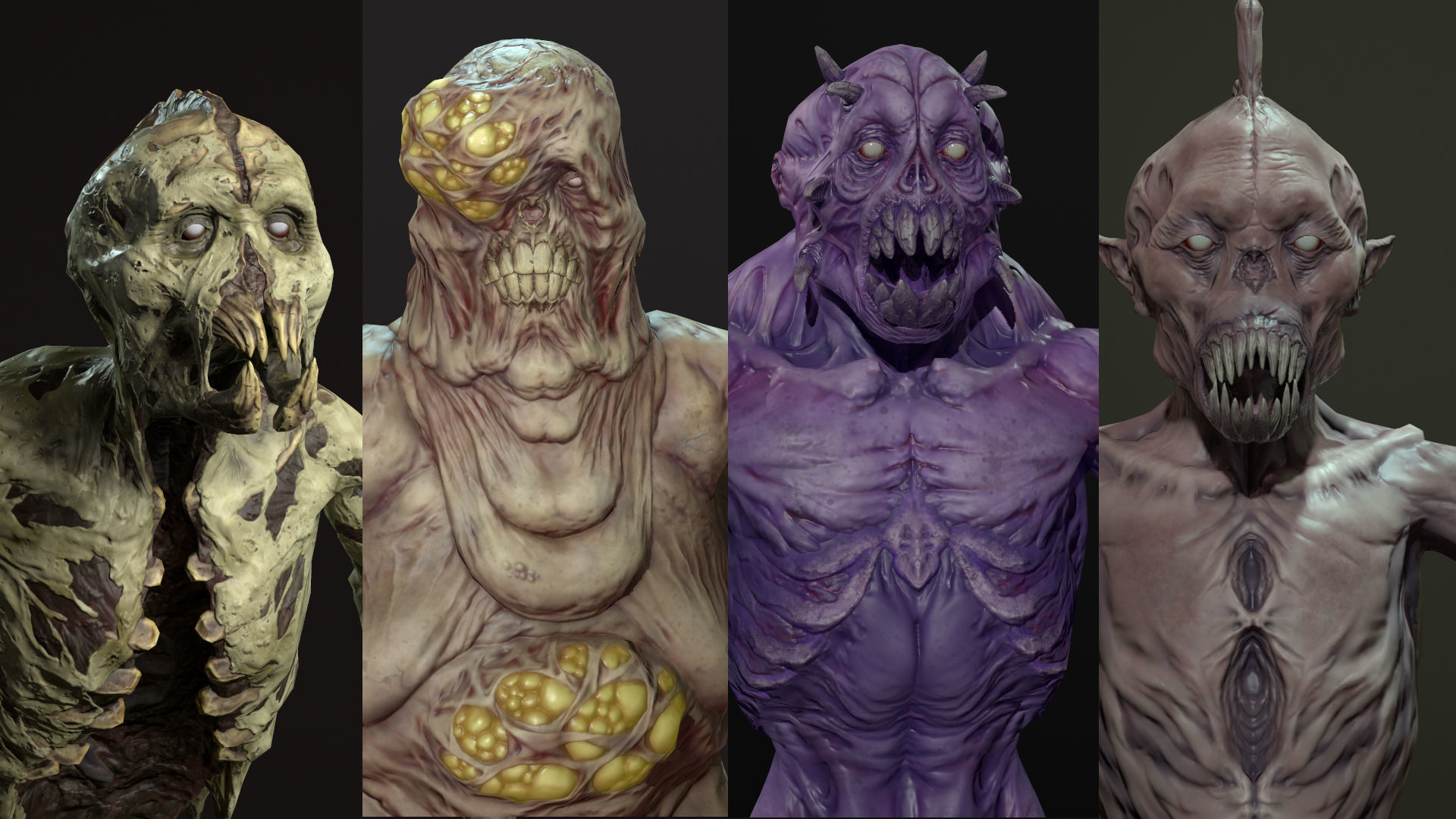 Making a Monster: Interviewing a Horror Creature Creator
Who doesn't love a good monster? From ghouls to werewolves to things less nameable, well-designed enemies are often a vital part of a horror experience. But what of the people who bring these nightmares to life? We decided to seek out someone who not only designs such digital demons but makes an income from them as well. To find such a person we turned to the indie scene, in particular the wonderful world of premade assets. There are a ton of resources out there for those wishing to bring their projects to life, including ready-made game templates, AI, textures, music and audio, UIs, environments, objects, and of course, characters and enemies. After trawling sites like the Unity Asset Store, the Unreal Marketplace, and CGTrader, we came across one 'Sitizen A', whose portfolio of the paranormal seemed like a perfect fit for us here at DreadXP. So saying, we reached to this mysterious modeler of the macabre, to try and get under the skin of a creator of creepy creatures.  
1. Hi! Can you introduce yourself to our readers?
Hello! My name is Azamat, I'm a freelance 3D artist working in games and advertising. I'm 35 years old and live in St. Petersburg, Russia. I've been involved with 3D modeling for nearly a decade now, after I saw a video on YouTube where some cool artist sculpted a character in ZBrush, which I think is the program that many 3D artists use to get acquainted with 3D graphics. Unfortunately, the games industry has its own way of doing things and the artist rarely does what is close to him; on game projects, the one who wants to make characters is forced to make elements for the environment, anyone who wants to make weapons makes characters, and so on. So at some point I went into advertising, where I worked as a 3D artist. About a year ago I went back to creating characters, but this time on 3D asset stores. This is a really interesting area where you're free to make the things you really like.
2. How did you first get involved in making 3D assets?
It was about 8 years ago when, after watching a couple of lessons, I sat down to create my first character. Since childhood I'd loved to draw and sculpt things from plasticine, and I always preferred inventing creatures. I've always liked genres like mystery and horror, and of course, my first character was a zombie. It turned out that it wasn't so easy; I had to understand both the anatomy and 3D modeling software! But when I finished that first character, I decided that I would become a professional character artist.
3. How long did it take you to get to your current skill level?
On a wave of enthusiasm, I very quickly mastered the basics of creating 3D characters, which took me several months. After that I quickly received my first order. I hosted a YouTube channel with character tutorials and even taught a little. Beginner 3D artists are always interested in how long it takes to study; in fact, it's quite easy to master the knowledge necessary to get started creating your first 3D models. Don't try to immediately study all the functionality of the programs in which you work; instead, learn only what will be useful to you in your work right now. Also, don't put off creating your first 3d model. It's best to learn as you go along, and when faced with a problem, immediately look for its solution on the Internet. And remember that learning anatomy, color, design and composition is more important than knowing software. Spend more time with these disciplines. With the current abundance of information, I think you can create some kind of relatively simple asset in about two to three months.
4. Can you explain the basic process of making a 3D character and animating it?
Today, the process of creating 3d assets for both large companies and freelance artists is very similar. I receive concept art and a technical assignment from the customer, and then we agree on the terms. Sculpting takes place in ZBrush. Sometimes fabric simulations are created using Marvelous Designer. The modeling and creating UV maps are done in Autodesk Maya or Blender, whilst creating textures is done in Substance Painter. Animations are most often done in Autodesk Maya. In large companies, each stage is often performed by a separate specialist, but if you're a freelancer, you should be able to do everything yourself. Today, game engines such as Unity and Unreal Engine allow you to create a character based on a basic skeleton and use ready-made animations. You can also use Motion Capture libraries.
5. What do you think is the hardest part of modeling and animating 3D game creatures?
I think the most difficult part of creating 3D characters for games is the constant struggle with the creative crisis. The so-called 'burnout' is a big problem for the entire industry and every artist faces it. When there's a long process between the idea and the finished model, it can be very tiring. For those who have been working as a 3D artist for many years, this can become a really big problem. To cope with this, it helps to have some hobby that's not related to graphics. That, and of course, love for your work.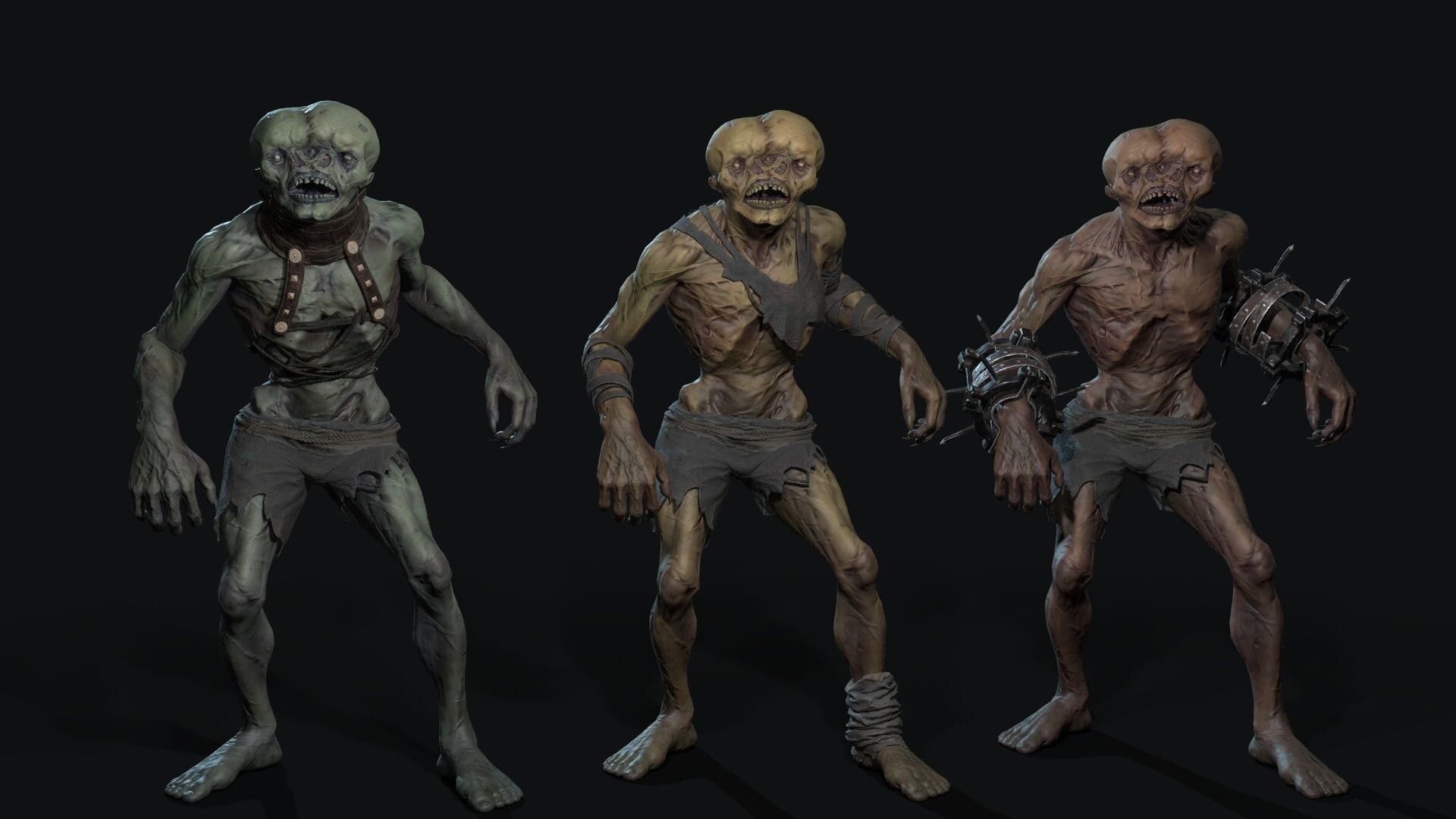 6. What is it about horror that interests you?
I think what most interests me about the horror genre is that it's very diverse and individual. Each person sees their own monsters in a game or movie. Fear is a very personal experience associated with a person's culture and life experience. And of course, the horror genre gives you a lot of room for creativity, which is very important for a 3D artist.
7. What do you think makes a good horror monster?
I don't think there is a perfect recipe for designing a good horror monster. Many people know that a monster without a face or eyes looks very striking, and that claws and teeth indicate danger. There are many well-known tricks, but they still do not guarantee that the character will be memorable. It seems to me that the most frightening thing when familiar and safe things are suddenly changed so that they pose a danger.
8. What are some of the games that have used your works?
My stuff has been featured in RIPD: The Game, INSOMNIA: The Ark, Stalker online, GOLIATH and a number of mobile projects, and I'm currently creating more characters for asset stores. I should flag up that some of these projects I've listed are already quite old; there's a number of newer and higher quality projects I'm also working on that I'm not entitled to talk about before they are released.
9. Finally, what's your favourite videogame monster, and why?
Video games have given us a lot of interesting monsters, so I won't list all the ones that I like. One monster I often remember is Laura from The Evil Within. This character has a story that inspires sympathy, and I also really liked how the game designers made me fight this fast monster alone and in a very claustrophobic environment.