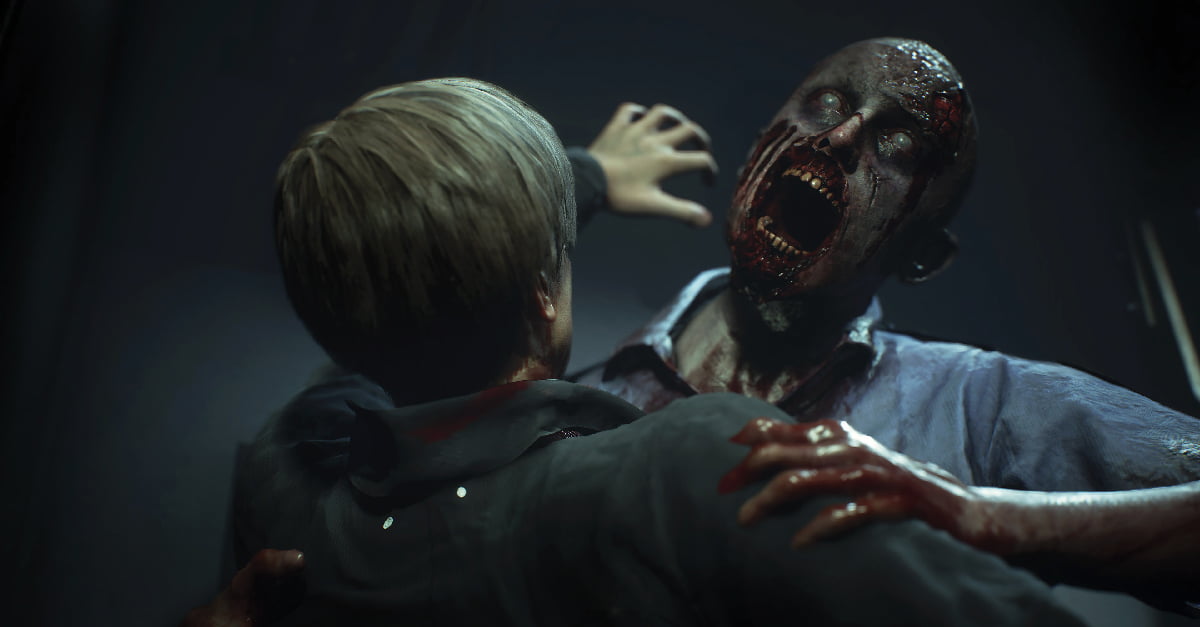 Our Most Anticipated Horror Games of 2019
We did it, folks. Humanity survived another year, and though our civilization appears to be teetering precariously on the edge of a rather steep cliff, that's a true achievement. I enjoy this time of the year, with its best/worst awards and obligatory retrospective listicles. It gives us the chance to pay our respects to the Year That Was while we prepare for what will likely, hopefully, be a more interesting 2019.
With some notable exceptions — particularly in regards to indie games that continue to be bold and wonderful — 2018 wasn't the most thrilling year to be a fan of the horror genre. A handful of impressive titles and a growing number of spectacularly talented indie developers ended up saving the year for me with games like Visage, The Forest, and September 1999. And you can bet I was downright giddy to finally get the mature vampire game I've been pleading for for years in Vampyr.
Unfortunately, this was a year that was more memorable for its many disappointments. Call of Cthulhu didn't quite scratch the itch that's lingered for many Lovecraft fans since the Dark Corners of the Earth's planned sequels were canned more than a decade ago, while Agony was too distracted by a goofy desire to be mature and controversial rather than fun to play, and, well…you saw what happened.
The ravenous undead had a rather rough go of it. State of Decay 2 was plagued by technical issues for months after its launch, The Walking Dead: The Final Season suffered from the very public implosion of its once acclaimed developer Telltale Games, and Overkill's The Walking Dead simply wasn't very good.
So yeah, suffice to say, we've had better years. Like 2010. Remember 2010? Alan Wake, BioShock, Dead Rising… man, that was a good one. Anyway, don't fret, because there's mounting evidence that next year will indeed be better. Starting with…

The Walking Dead: The Final Season
Clementine is the rare sort of character that deserves — nay, she's earned — a proper send-off. That almost didn't happen, because of some breathtakingly poor management that ultimately led to the studio's closure. But unlike the often cruel and unforgiving world in which The Walking Dead takes place, Clem & Co. will indeed get a second chance, with most of the original team returning to see it through to the end.
Release Date: Episode 3 releases on January 15 (PC, PS4, XBO, Switch), followed by the finale later in the year
Resident Evil 2
There are some extremely exciting games on this list, but for me, none come close to a longawaited (and ridiculously handsome) remake of Resident Evil 2. Had Capcom thought to enlist me in the planning of this ambitious remake, this would be the game I'd imagine. Had I come up with a list of requests, this would check all the boxes. Every last one of them. Believe me, I checked, and yes, Capcom got every damn box.
It's worth mentioning that I haven't played the game, so this is what you might call a premature evaluation. And yet, I'm confident it'll be wonderful. If it isn't, then come January, you'll definitely find me huddled in the corner of a dark room sobbing quietly while I pluck leaves from a nearby house plant so I can combine them and heal my broken heart.
Release Date: January 24 (PC, PS4, XBO)
The Sinking City
As much as I would've loved to get two great Lovecraftian horror games, there's still a solid chance we'll still get one. For me, The Sinking City has long been the more promising of the two, thanks in large part to its open world set in a beautifully realized 1920s city that's gradually succumbing to rising waters. And now, it also has the added benefit of learning from Call of Cthulhu's mistakes. Let's hope it doesn't repeat them.
Release Date: March 21 (PC, PS4, XBO)
Observation
This one is more a thriller than a straight up horror game, but it more than earned a spot on this list for its premise alone. If you've ever wondered what it'd be like to become the cold, calculating A.I. we so often see go rogue in games like System Shock or in films like 2001: A Space Odyssey, then this may be the game for you.
Observation puts you in the digital shoes of an A.I. named S.A.M. (short for Systems Administration and Maintenance) that controls a space station where something has gone horribly wrong. The game blends point and click style gameplay with puzzles and a focus on storytelling, and it really can't come soon enough.
Release Date: Q2 2019 (PC, PS4)
Days Gone
It takes a lot for a zombie themed… anything, really, to stand out these days. Like the undead hordes that roam many an apocalyptic wasteland, zombies have dominated culture for some time now. Their reign won't last forever, but it will continue through next year, at least.
Days Gone has a lot going for it. It has top notch voice talent in actor Sam Witwer (Being Human, Star Wars: The Force Unleashed), who portrays the game's lead, Deacon St. John. There's a nifty crafting system and a lush open world you'll get to traverse via motorbike, because why not? If you've seen any gameplay footage, you may have noticed its boldly drinking World War Z's milkshake with its hordes of zomb-or rather, Freakers, that move not unlike a swarm of insects.
Release Date: April 26 (PS4)
The Dark Pictures Anthology: Man of Medan
I usually prefer not to shame anyone for missing out on certain video games, but if you haven't gotten around to playing the excellent Until Dawn by now, then I have to ask: dude, why?
Developer Supermassive Games is returning to the cinematic style of spooky storytelling that made Until Dawn so unique with *deep breath* The Dark Pictures Anthology: Man of Medan. The game is set aboard a ghost-ship adrift in the South Pacific, and as you might've guessed, Man of Medan will be the first in a planned anthology series.
Release Date: TBA 2019 (PC, PS4, XBO)
Layers of Fear 2
Bloober Team is a very silly name that horror fans should recognize as the studio behind the spooky indie titles Layers of Fear and Observer. Their ongoing efforts to spook us all to death will continue next year with Layers of Fear 2, which I imagine will feature surreal imagery, puzzles, and loads of jump scares. If that's your jam, I suggest you keep an eye on this one.
Release Date: TBA 2019 (TBA, but PC, PS4, XBO, and Switch are all likely candidates)
Doom Eternal
I've said a lot about this game already. Doom Eternal looks like it'll deliver more of what made its predecessor such a ridiculously good time, and then some. You can be sure it'll be heavy on the gore and brutal in its action, with hellish environments populated by demons both new and familiar.
Release Date: TBA 2019 (PC, PS4, XBO, Switch)
The Last of Us: Part II
Naughty Dog has built itself a reputation for delivering video games that are visually stunning and narratively ambitious, with mostly good gameplay and characters that actually feel like fully fleshed out humans. With the Uncharted series, the studio demonstrated a unique ability to tread the line between blockbuster action movie and AAA action game, a formula they would then hone to near perfection in The Last of Us.
Where the first game was a tale of unconditional love, this sequel will be all about revenge. Bloody, brutal revenge. Set five years after the first game, The Last of Us: Part II follows an older, even more badass Ellie as she takes on a gaggle of cultists who I can only assume will find themselves being picked off until there's none of them left.
Release Date: TBA 2019 (PS4)
Dying Light 2
There's a whole lot of reasons to look forward to Dying Light 2. The original was, and still is, a fantastically addictive zombie genocide simulator. Movement and combat is fluid, and with The Following, developer Techland introduced a number of Diablo III-inspired systems to make the game worth playing long after you've beaten it. The sequel will almost certainly share these strengths, while it introduces some new tricks, such as the ability to alter the world through the decisions you make. This means there will be actual, tangible consequences for your actions, further raising the stakes in an already sufficiently intense series.
Release Date: TBA 2019 (PC, PS4, XBO)
---
That's it, for now. It's only December, so we're bound to see plenty more promising horror games added to this list in the months to come. In the meantime, if you feel like I missed something, feel free to let me know — unless it's on this list, which it may very well be.