Romancelvania Features a Dracula Who's Thirst Can't Be Quenched By Blood
Do you see that headline? Please read it again. I thought it was clever. Also, that's all the introduction you need to Romancelvania, which is seeking to combine a Metroidvanias with The Bachelor. It's pretty much amazing.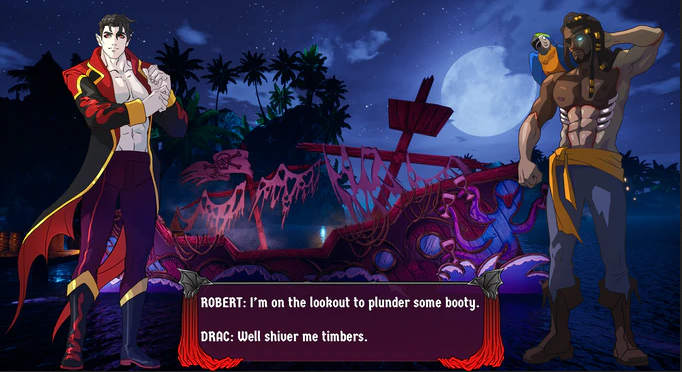 The idea is that you play as Drac, a vampire who's in a depressive slump and is also super lonely. Thankfully his best friend, the Grim Reaper, is ready to cheer him up. How so? By making him participate in a televised dating reality TV show, of course. Drac now finds himself with 9 eligible bachelors and bachelorettes and needs to woo one of his dreams. So he sets off, with eligible partners like a pumpkin witch, a dead pirate, a fancy werewolf, a "yummy mummy," and more.
Also, it's a metroidvania, so in the process, Drac needs to explore the world and fight monsters. There's plenty of wild enemies and environments to explore, and one part of the trailer even shows Drac doing battle with a flying plate of spaghetti. Drac will do so with plenty of weapons ranging from swords to spears to whips. Also, to continue with the dating theme, you can encourage your weapons to date each other, eventually leading to a new, better, offspring. Love for everyone!
Romancelvania is being developed by The Deep End Games, who also put out the first-person horror game Perception. You can currently back the game on Kickstarter, and it is planning to come to PC, PlayStation 4 and 5, and Nintendo Switch.