Hooked On You Review – I'm Dying To Stay Here
---
Developed by Psyop
Published by Behaviour Interactive Inc.
Available on PC
MSRP: $9.99
---
Since we got the announcement trailer for Hooked On You back in May, I have been incredibly interested. I mean, how do you take these iconic Dead By Daylight characters and not change the genre but make them seem almost welcoming? Not to mention how do you add a certain amount of hornyness to them without taking away from their terrifying demeanour?

Well, it turns out developer Psyop knew the secret formula to this because what I experienced over my multiple playthroughs of Hooked On You was magical. For the hardcore Dead By Daylight player base, they do a fantastic job of not only sticking to the lore for each character but also fleshing it out more. For example, we get a profound insight into The Huntress's family, why she is obsessed with hunting, and the local Russian folklore songs and stories about her. Yes, her enchanting whistling tune is also brought up a few times.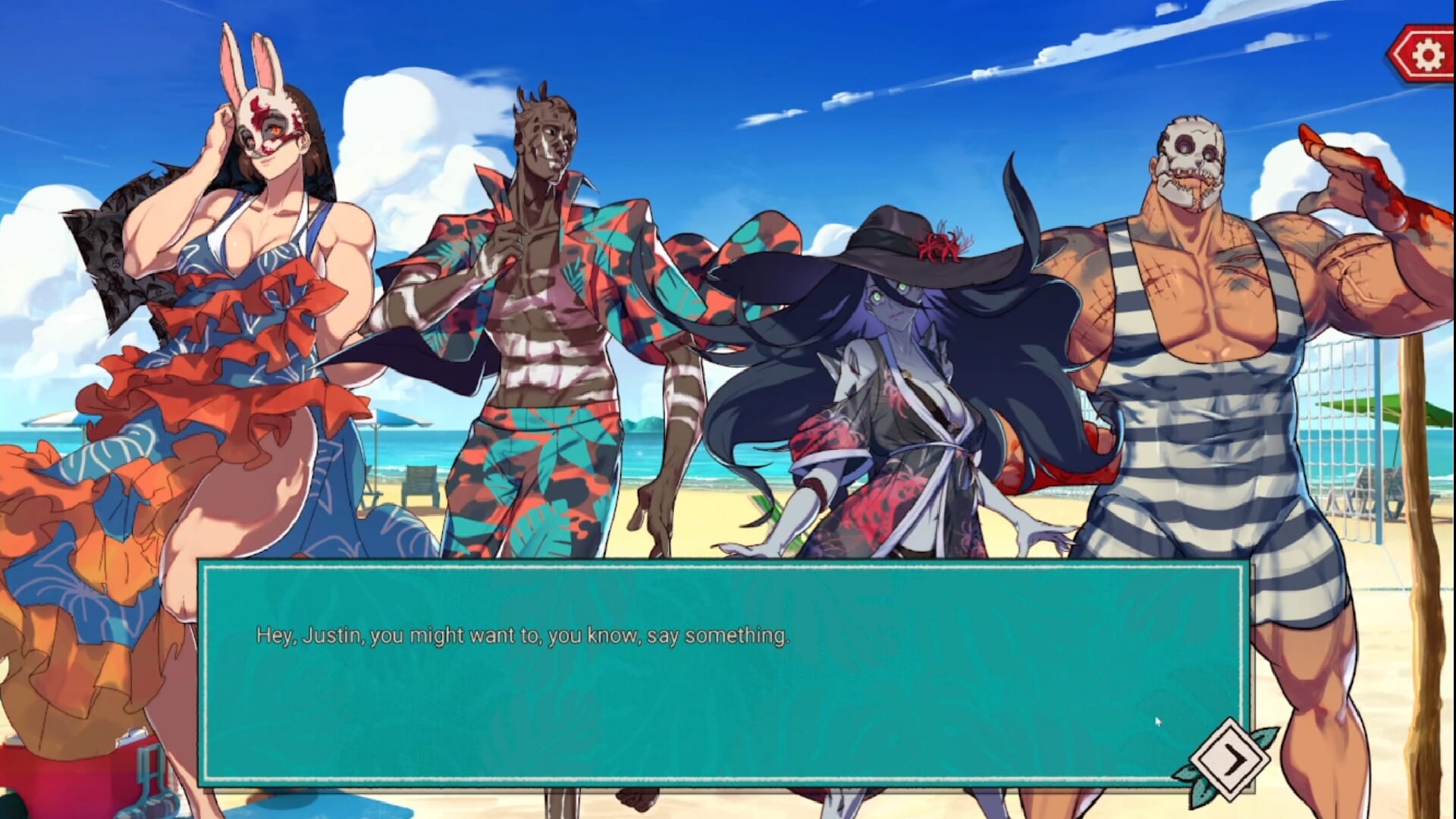 We get that kind of character for each of the four killers. However, some of the other, shall we say, unexpected killers, do make appearances, and one that legitimately shocked me. I don't want to say who or what, but their appearance is lore-wise to the island hilarious and why they only pop up is brilliant.

It's a big undertaking for a game to be so comedy-focused and nail it, but with Hooked On You, they poke that they know the player base is incredibly horny for these killers. But also at the fact that they know it's a game that is played in an amusing way. For example, mentioning, "Hey, if you see any bugs, just know that's intentional."(Which I only ran into one, which because of its timing I'm not actually sure if it was one or not) Although quoting it here doesn't do justice to the comedic timing of Dwight and Claudette as well as our double narrators, the Narrator and the Ocean, who is the self-proclaimed narrator of the narrator. It's very self-aware in the way that the best Scream movies are. And it uses this self-awareness to poke fun at itself and the fanbases constantly asking us if we are okay getting thirsty for these mass murderers. It just works. The writing is fantastic. 
There are no spoken works. It is mostly done through text and overly expressive characters, which again worked for me. The art style is on point, and the way they blend the Jimmy Buffet mixed with Dead By Daylight vibes added to this beachy scenery really does give it this overall feel of a summer retreat, only you know with horrible killers that will kill you if you wrong them. 
The story of Hooked On You is that you basically wake up on this island with killers and two survivors who have, without spoiling anything, an interesting reason for why they are there. And it's up to you to find someone you want to get with, or not that's entirely up to you. As a fan of the Tall Lady (Lady Dimitrescu) from Resident Evil Village, I went for The Huntress first. Their ability to humanize these horrible killers is astounding. I actually ended up feeling really bad for her. When it all culminated again without spoilers, I could understand why she is how she is and why the forest is her home. At this point, I played through the game three times. I just can't bring myself to want to even pretend to want to date The Trapper. In the game, he is a rich snob, and when he doesn't get what he wants, he flips out. None of that for me, thank you. But that is also a nod to how fantastic this writing is because every time it came to making choices, I had to fight the urge to go back to The Huntress. Even though I'd seen how it played out, I wanted to keep diving back in a going on that emotional rollercoaster.

If you like dating sims with some comedy, pick up Hooked On You. If you are horny for a character, pick up Hooked On You. There are just so many reasons people should play Hooked On You. I think it is a fantastic game and up there with the greats of the genre like Sucker For Love and Hatoful Boyfriend. The fact that this is coming out mid-summer makes it the perfect summer game to just vibe out with and get some killer strange.

For more interviews, reviews and features, keep locked to DreadXP, and if you want to scare the shit out of yourself, go play Mortuary Assistant.