Asleep: Time To Wake Up
This week I did things a little differently. The game I checked out today was suggested to me by another writer, and I'm glad I did! This week I'm looking at a demo for an upcoming game called Asleep.
Taken directly from the Steam page, Asleep is an adventure-stealth game in pixel art 2D, set in the Brazil Northeast of the 90s. Narrated through Ana Lúcias's perspective, a lonely and confused girl, lost and immersed in a chaotic reality of her nightmares. With little info and a mind that flirts with insanity, the player must join her to unravel what is happening there, collecting clues in her sketchbook and solving puzzles with only a flashlight to illuminate your path and wit to survive the enemies lurking in the darkness.
That alone was enough to get me interested in trying the demo out. The pixel is outstanding. I love an excellent pixel 2D adventure game. It reminds me of classics like Manian Mansion. By the way, if you haven't played Maniac Mansion for the NES, you are really missing out. ANYWAYS, back to Asleep.

Asleep starts off very dark, with one of the first objects you pick up being a flashlight, and it does a good job of bringing you into this unknown horrific world, with scattered chairs blocking your path and lockers full of blood. Maps that are really reminiscent of Silent Hill and also an ominous message that gives you a clear objective. "It is better to stay in the path of light because darkness might consume your mind slowly." So basically, stay in the light, and you'll be okay, but almost immediately, we are thrust into the darkness without light because we need batteries for our flashlight.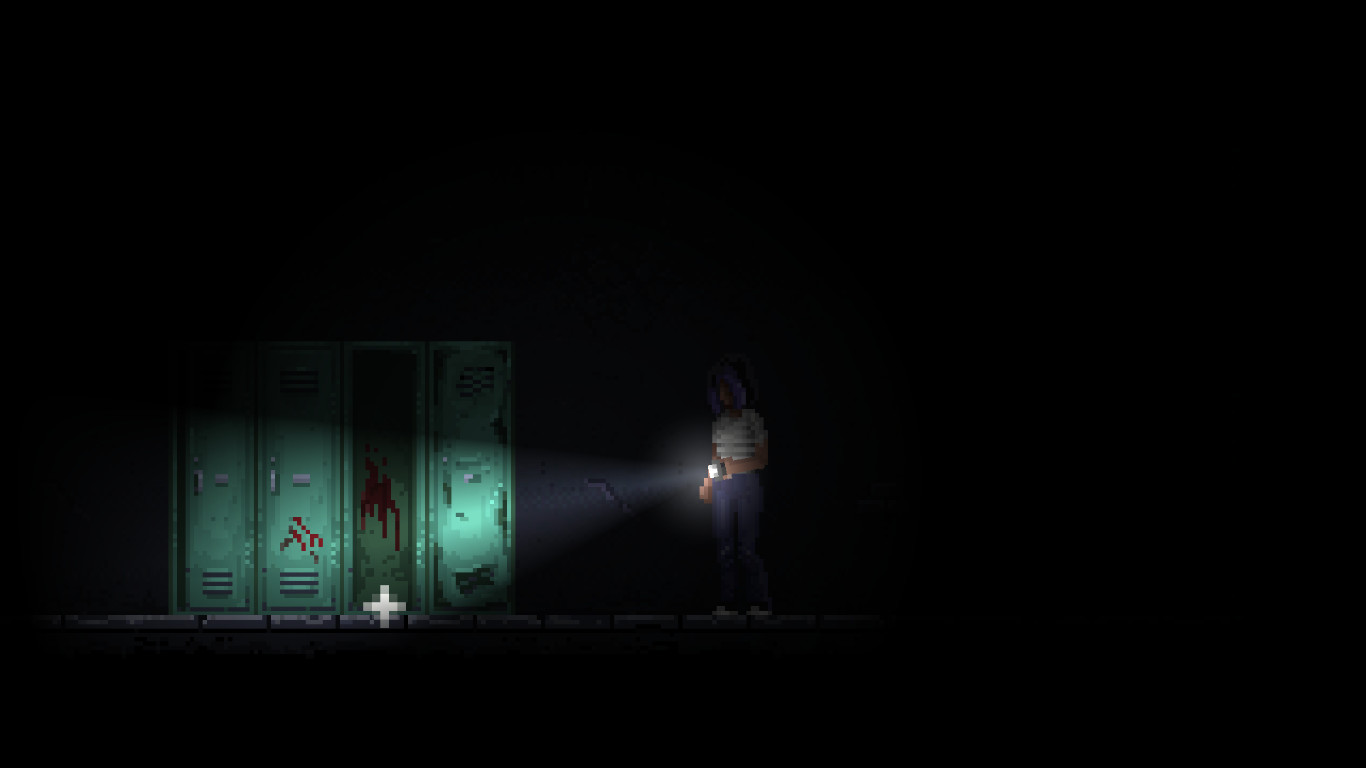 Like any good point-and-click adventure, you'll have to keep your eye out in the background while you traverse around the world of Asleep. One thing you can do in Asleep that so many older point and click is the ability to run, which you'll have to do a few times over the course of the demo.
There is about halfway through the Demo, a turning point where you shift worlds through a mirror, almost Silent Hill Origins style. Still, you wake up in a build reminiscent of a dormitory, in this world of well-lit rooms and corridors that don't look like they might kill you any second, you'll have to find items to help you out, specifically speaking some batteries.
In Asleep, there are enemies who you'll have to distract or outrun using the flashlight to your advantage, the cool thing being that every enemy reacts differently to the light. Also, I must point out that this one room looks terrifying, but nothing ever happens. That is until you get used to that room and without spoiling too much. I'll just say something shows up and almost scared me shitless.
Stealth is a really big part of Asleep. The way it is used mainly in the demo is there are these crying enemies who will remain almost a fixture in the foreground unless you start to run, but if you pair that with a few of the ankle bitters, things get really interesting because having to run away from the bitters wakes up the crying ladies. At that point, I just left the room entirely to reset it. While the story beats in the demo are non-existent until the end, just a few lines uttered have compelled me to want to see this world fleshed out more. Some of the trailers tease some really interesting stuff and also some horrific things if pulled off successfully.
Asleep is made by a solo Brazilian developer, and I think they are doing a fantastic job. It really strikes home to the old-school point-and-click adventures I remember from the nineties, but with the quality of life changes we see with games released now. With just a Coming Soon release date on Steam, it might still be a while before we see what a full version of Asleep looks like, but I hope Dex Drakon keeps at it because id love to see what the full release can do. So follow them on Twitter, download the demo yourself, and give it a go on Steam!
For more interviews, features and reviews, stay locked to DreadXP, and I can't spread the word enough, play Mortuary Assistant!