Haunting Highlights of Steam's Next Fest
October's Next Fest crept up as fast as the autumnal spectres and grey mists this season, and it's chock full of chilling demos to satiate your spooky cravings. Featuring more impressively-crafted demos, and content right from the developers than you can wrap your claws around, it's a great time to slither right in and give a few a try. From pixels as crunchy as fallen leaves to slavic survival, here's a bushel of particular treats for you to sink your teeth into.
---
Incantamentum
Starting off the spectral list is the evocative Incantamentum, created by Cloak and Dagger Games. Set in a quietly gloomy English countryside, the barrow-digger and antiquity-seeker Thomasina Bateman travels to Bewlay after receiving an obscure letter regarding a potential barrow. One that, of course, the standoffish villagers have never heard of.
Harkening to early adventure games, this intricately pixelated point-and-click burns as slowly as dying candlelight. Tension settles in while you question residents of the local inn, and await your enigmatic contact. Unravel the lurking secrecy of this quiet town. Perhaps there's one estranged soul who has answers…

You can experience the demo for Incantamentum, and wishlist it on Steam here.
Martha is Dead
Following is the highly-anticipated and psychologically thrilling, Martha is Dead, developed by LKA, who you might recognize from their other title, The Town of Light. Opening with an eerie ghost tale played out by whittled marionettes, your attention is enraptured by the unique antiqued style and foreboding tones. But much more lies under the surface of the umbral waters to be discovered…
After finding the body of your twin, Martha, you quite literally take her place in life. Giulia awakes from a visceral nightmare in the middle of 40s war-torn Tuscany, ready to take on the role once again as her deaf sister. Martha is Dead features a unique and realistic photography system that lays out the emotionally gut-gripping story in snapshots. With bleeding sun and global torment drenching the seemingly-serene valley, unravel the story of Martha's demise.

Click here to play the Martha is Dead demo, and wishlist on Steam during the Next Fest.
Last Days of Lazarus
Drenched in Romanian style and embroidery, Last Days of Lazarus by Darkania Works & GrimTalin creeps it's way on the list. Following the suicide of your religious mother, your sister beckons you in a panic to return home. Gilded Catholic iconography oozes from every corner as the stench of rot permeates the air.
The cluttered apartment shatters into a visceral cosmic nightmare around you, as you rush to what wits you have left to save your sister. As if the bubbling eldritch flesh-goop wasn't issue enough, a local priest turned cult warlord reeks further havoc upon the snowy lands.
To try out the Steam Next Fest demo for Last Days of Lazarus and wishlist the game, click here.
The Tartarus Key
Kidnapped and seemingly alone, The Tartarus Key developed by Vertical Reach cozies right in this list with low-poly mystery, and escape room dilemmas. You play as Alex, confused, but quickly coming to your senses you spot a purposefully placed walkie-talkie amidst the dimly lit room.
Armed with your wits, and the cool-headed collaboration of detective Torres on the other line, it dawns on you that neither of you are alone. This "kidnapping" is a game. Puzzle like your life depends on it (because it does), and make your way through an arcane mansion of umbral occult secrets and clues via The Tartarus Key's unique radio static communication.

To check out the demo and give it a wishlist on Steam, click here.
Self-Delusion
Rolling on the list like a deranged ball of dough, Self-Delusion by RollingBread strikes you with survival chaos based in Slavic folklore and myth. I'll admit, this one is a bit of a chaotic challenge. I struggled with a strategy. But the heart-pumping potential, and folklore take on a survive-the-night game make it a thrilling refresher for that genre, especially for those with enough patience.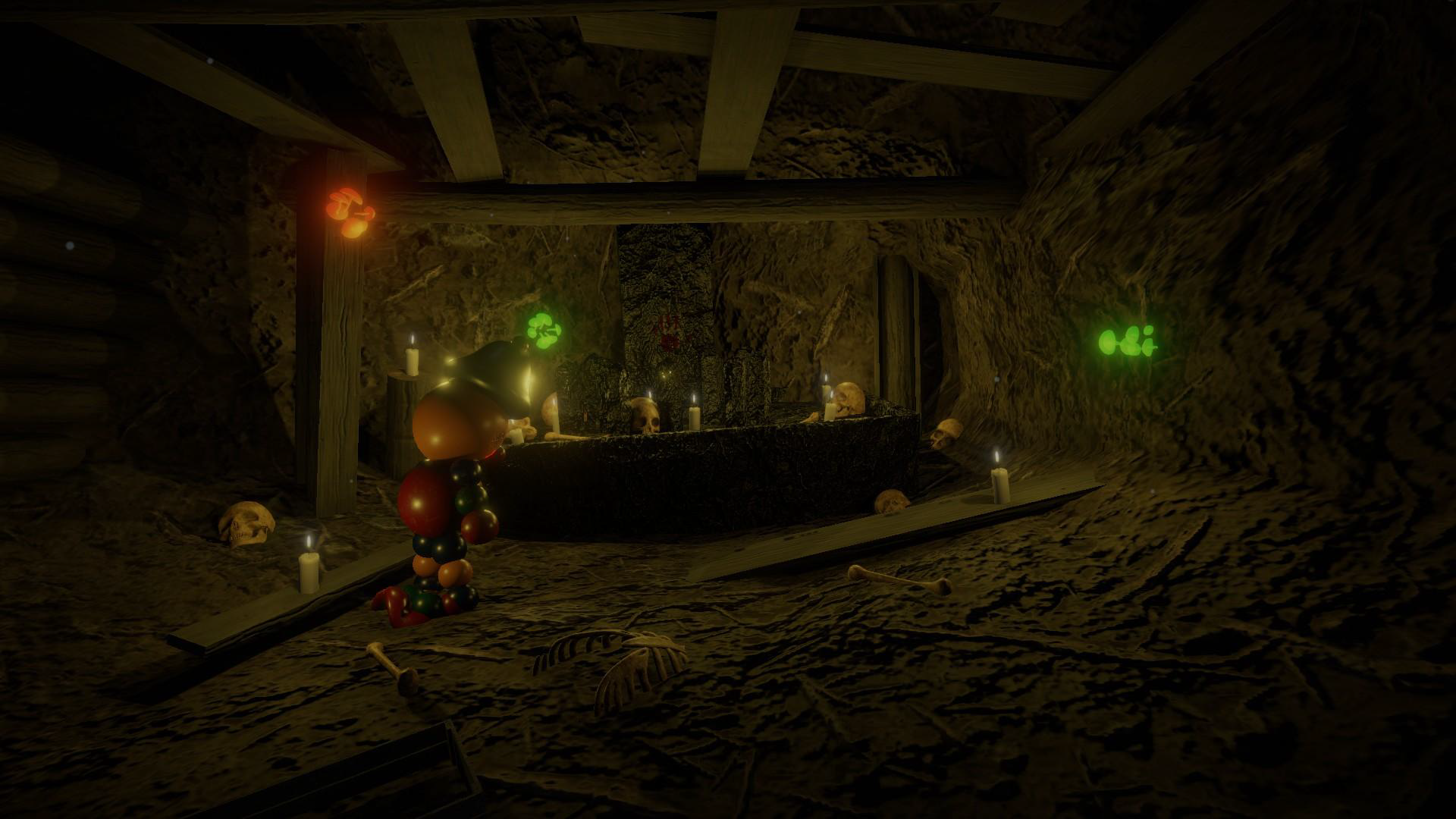 Featuring charmingly broken sentient toys, koboloks, boggarts, and a lurching leshy, you have to fumble your way through a dark Russian cottage and quell their restless spirits. Practice makes perfect in Self-Delusion, and practice it takes. Avoid the bite of a floor-dwelling faerie tale creature, feed the cantankerous hearth, juggle mechanics, and live to see the sun rise.
Click here to wishlist the game and play the demo for yourself.
---
More demos than I could stuff into a body bag lurk in the shadows of Steam's Next Fest with a couple days remaining. Ghastly gems nestle quietly in their graves. So go forth, choose a few, and get spooky.