Portable Terrors – The 5 Best 3DS eShop Horror Games
Nintendo has announced that the 3DS eShop will be closing down in late March of 2023. With that, several horror games are going to become a lot harder to find. Some will be dang near impossible to get. In the interest of getting those games into as many hands as possible, here's a list of five interesting, spooky titles that make for some of the best horror on the 3DS eShop.
You awaken from cold sleep aboard an eerie spaceship. You won't be going much of anywhere yourself, either. Your body is sealed inside a pod. However, you can guide a tiny robot around the gloomy halls to try to get some answers. That information will be hard to come by, though, as the game isn't very forthcoming with hints or help. It's unclear and unhelpful by design, aiming to leave the player to figure out what they can all on their own.
This process makes solving the mysteries of the ship feel that much more satisfying. You really feel like you earn it when you figure something out. Especially when you're figuring it out while robots, apparitions, and other beings make your life difficult. Figuring out the events and devices of this game is challenging and harrowing, and will keep your heart and mind racing. If you liked Echo Night: Beyond and other sci-fi horror titles, you'll likely enjoy this 3DS eShop horror game.
Also, it's disturbing to see your body in that tiny pod on the second screen. Something about it activates a deep-seated fear of being buried alive. Not that your body is ALWAYS on that screen. When it is, though, it's hard not to feel a little hint of terror at the idea of being stuck there. Forever.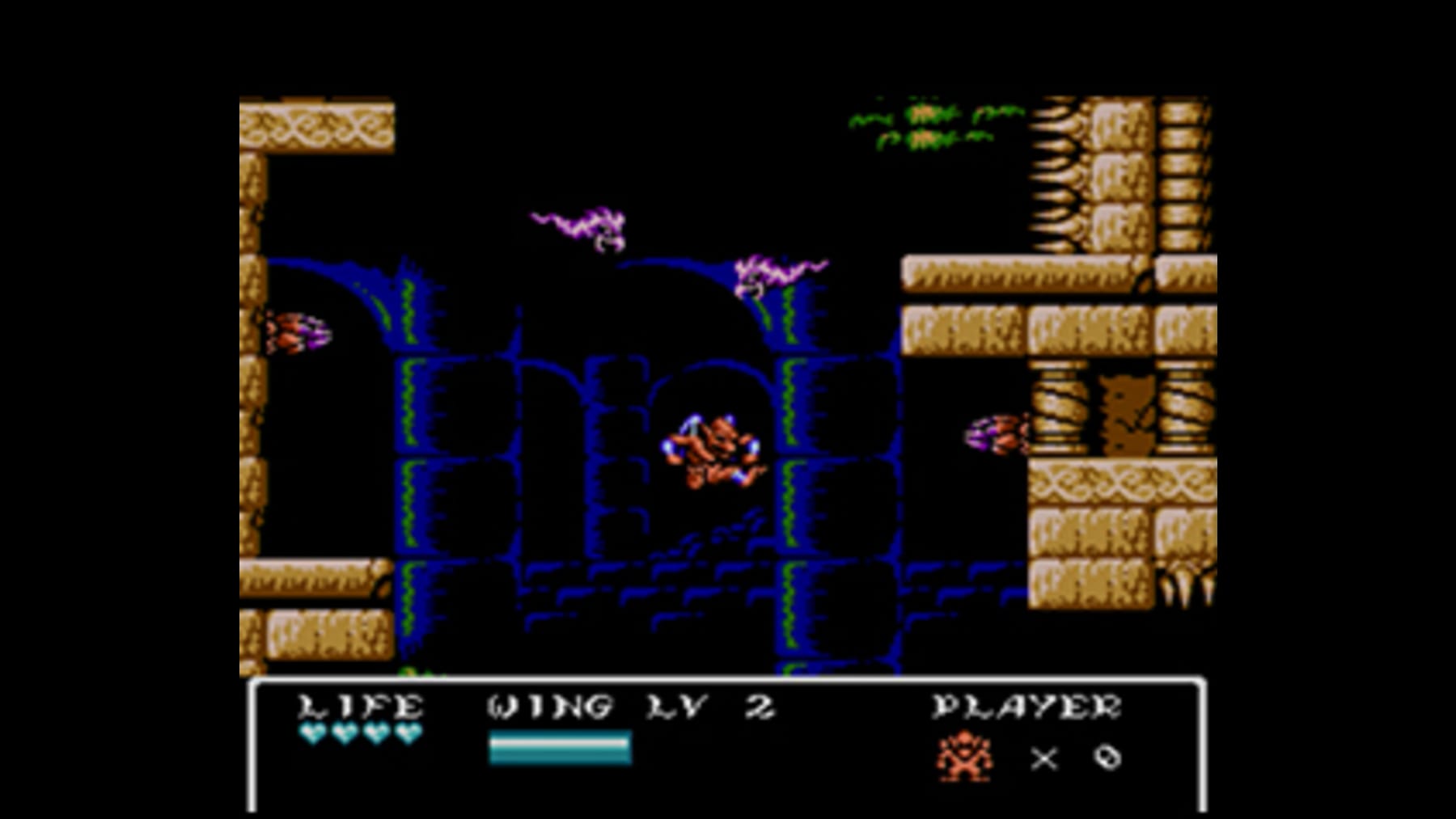 You may recall this game's title character from some of the Ghosts 'N Goblins games. Although here, our red character is on their own adventure instead of continually killing knights. Firebrand is out to save a land of monsters from a strange light, and that will involve some challenging platforming and boss fights across the hellish countryside of Ghost Realm.
Mobility is what makes this one of the best 3DS eShop horror games. Firebrand can fly for short bursts, glide, and cling to walls with his clawed feet. With these abilities, you'll have to carefully maneuver around all manner of lethal ruins and demonic fortresses, all while using fire breath to destroy anything that gets in your way. The Ghost Realm is also a stunning look at what a world of monsters would be like. Exploring this place using your varied movement abilities makes for a compelling platformer. One that's far cheaper to get on the eShop than anywhere else.
Waking up in an abandoned hospital complex is rarely good news. When said hospital complex is filled with all sorts of nasty creatures determined to end your life, it makes that situation all the worse. Thankfully you've got a few firearms and melee weapons to keep these sickening creatures at bay. Not that those tools make things that much easier for you. This place is massive and your enemies don't give up easily.  
I was pretty skeptical of the idea of a first-person shooter-like horror game on 3DS, but the Dementium series does a solid job of mapping the controls to the console. This is great, because the game is filled with surprise enemy appearances, challenging mobs, and endless dangers in its sprawling, dark halls. It's a title that leaves you constantly on-edge and worried about where your next foe will pop out from. Death comes (literally) quickly in this game, creating a tense atmosphere as you try to unravel why you're here.
This version offers some visual tweaks and improvements on the original game, as well as some very welcome difficulty levels if you found yourself continually stomped in the old game. Like I was.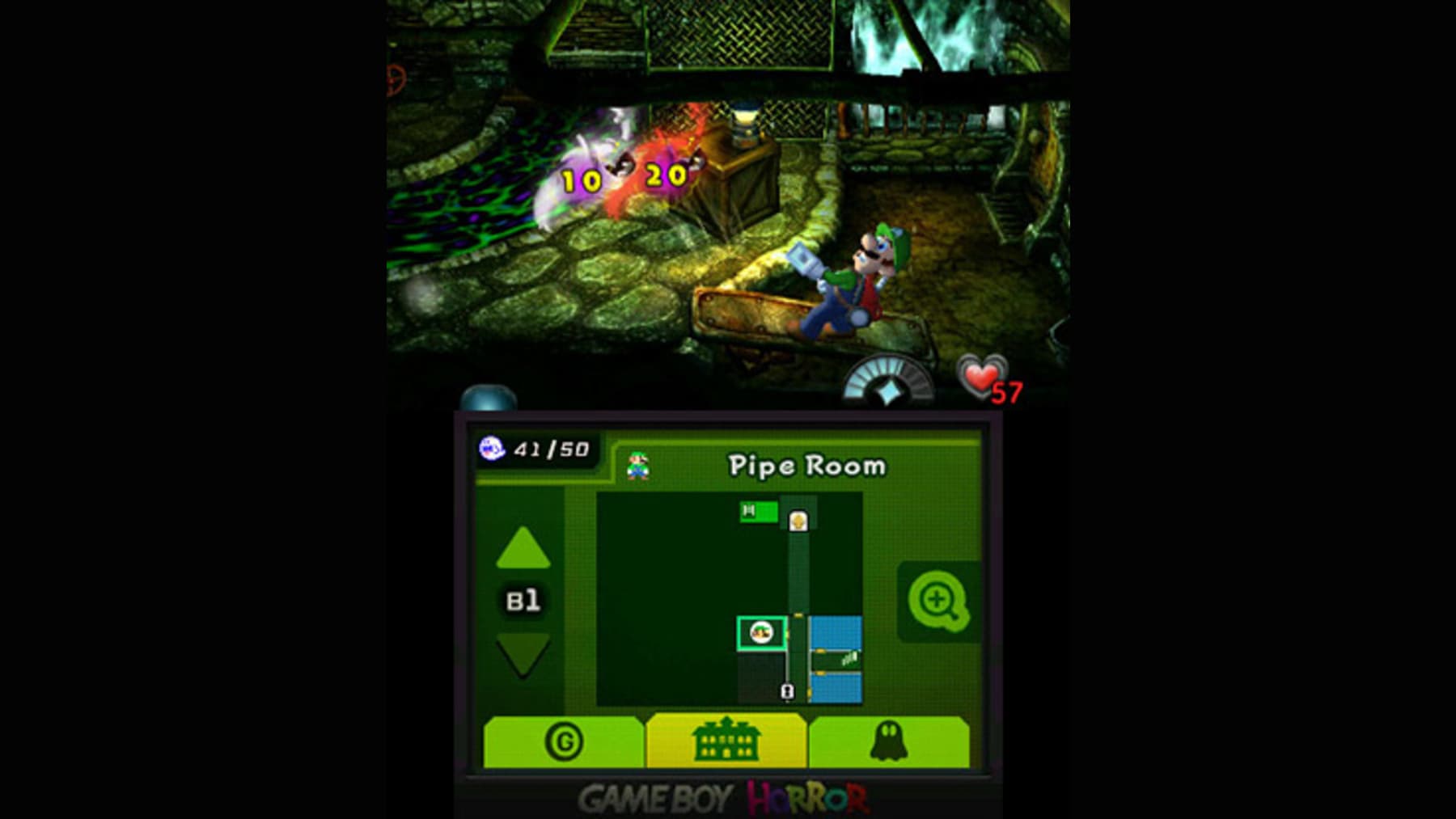 The original version of Luigi's Mansion is my personal favorite in the series, capturing slapstick and spooky ghosts in an appealing way. Luigi's just not much of a brave hero, but he's gotta pull himself together to save his brother from this haunted mansion. To do that, he'll use a special vacuum cleaner to suck up ghosts, but not before weakening them with some fancy maneuvers first. It's light and silly, yet still more than capable of surprising with some pop-out scares. And there's something really fun about vacuuming up cash that's hidden all over the building.
This port of the Gamecube game comes with some neat additions. Having a map on the screen at all times is extremely helpful. There's also a few additional tools to make exploration a bit easier. You can fight bosses over again if you want to improve your time and tactics against them, too. While nice, it's the ability to take this funny, fearful game anywhere you go is what makes it one of the best 3DS eShop horror games to me.
Arisa and her friends have decided to go explore an abandoned mansion. This goes about as well as you'd think. Now, you find yourself having to flee from strange creatures and beings who stalk your every move. Being a kid, you don't have any tools to fight back with, either. You can stagger these creatures with a few items, but beyond that, avoiding the monsters and staying on the move is all that will keep you alive.
The game definitely has a Clock Tower vibe to it as you run from stalkers and have to mash buttons to escape death. It's also terrifying when one of these hulking things rears its head, forcing you to flee in hopes of losing them. These panicked flights are truly pulse-pounding, and often resulted in getting lost through the winding tunnels and paths that make up the mansion and the grounds nearby. That sense of being lost and terrified give it a welcome place on our list of the best horror games on the 3DS eShop. While there's a Steam release of this game, let's just say the port wasn't handled very well. THIS is the version you want if you enjoy terrified flights from killers with shovels.