ULTRA-INDIE: Remnants In The Water
intrHello, you glorious gluttons for all things indie horror! Are you just starving for the newest of the new, the most unknownest of the unknown? If so, you've come to the right place. Welcome to the Ultra-Indie Daily Dose! In this series, we're going to pick a new game every day from an indie horror creator you've probably never heard of. No million-dollar budgets or factory productions. This is the space for the little guy with not but a developer toolkit and a dream. So if you're down to roll the dice on something different, then stick around and check it out!
---
Remnants In The Water is a short dialogue-driven game set in a nuclear sub shortly after the surface of the world is rendered extinct from nuclear armageddon. As one of the crew the player awakes from a head injury as the submarine dived to avoided the blasts and is left without memory of the events shortly afterward. By exploring the Submarine players can talk to other crewmates and get updates on the situation. Depending on the order that players talk to characters changes what they can offer in responses, players can also return to crewmates to follow up on topics.
The stars of the show are well, everyone. The art direction, music, sound design, and dialogue all harmonize the experience. The dialogue is noticeably unique between each character as they fill their recollection with emotional comments. Rather than simply exposition or autobiography themselves to the player, it's a more natural mix of information and each personal rationality of the current circumstances.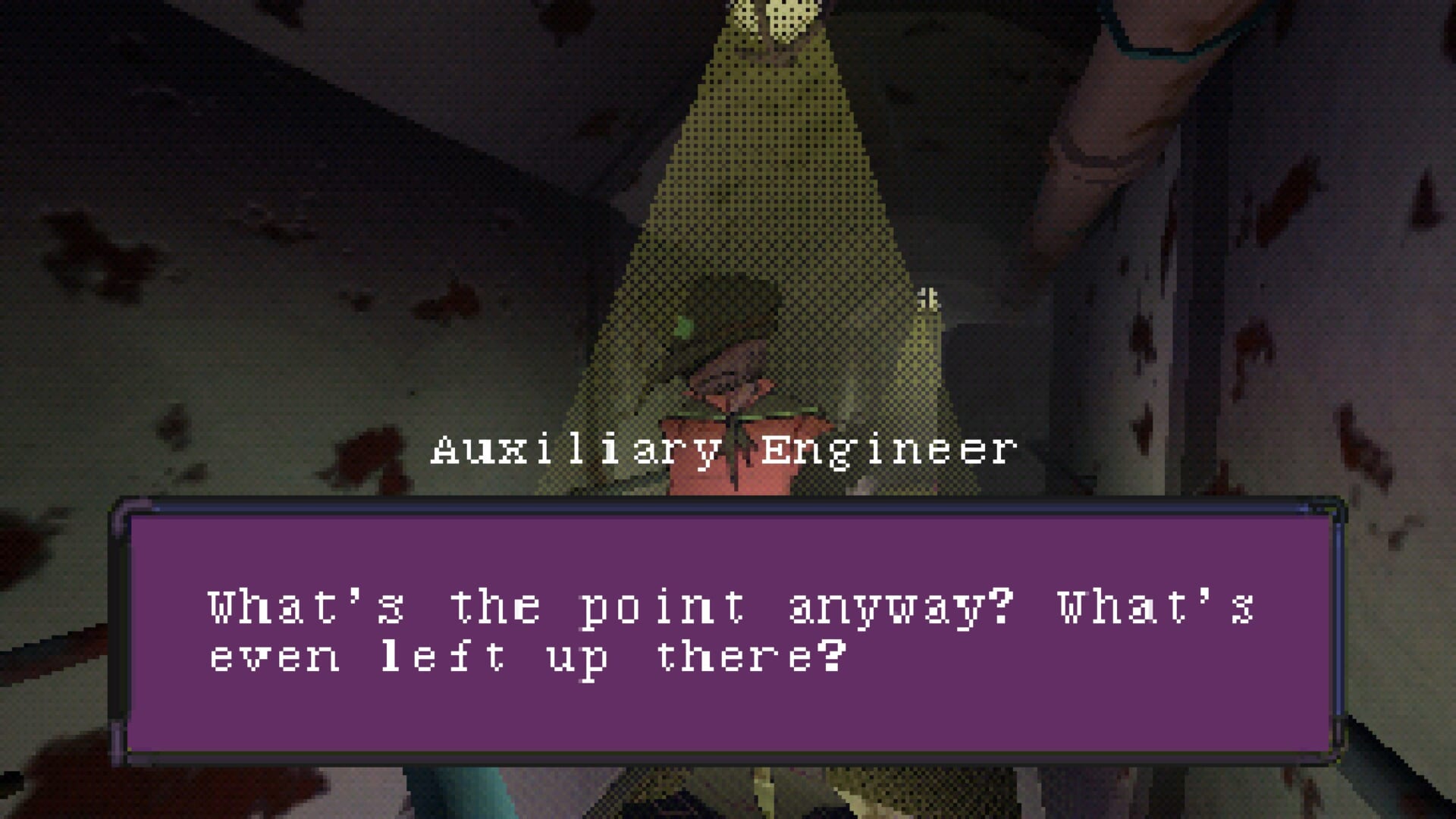 For any critique, I dare to say Remnants In The Water is too short. Not all games need to be a long-winded narrative but the character designs and personalities are too good. When they speak it feels like there's a reality beyond this submarine hallway. The character's history can be felt through their perspective and coping mechanisms. These are characters that easily could be developed into a much broader narrative given how much work has gone into developing and designing each one.
The music is in conflict with the moody interior of the submarine being of steel and rust. however, it also makes it unique. The earnestness behind the music attempts to cut through the calamity that has befallen the crew being the sole survivors of the entirety of civilization with no visible prospect of recovery.
You can play Remnants in the Water on itch.io.
Check back for more Ultra-Indie spotlights here at Dread XP.