Escapist Showcase Horror Highlights Pt. 2
The good folks at the Escapist Magazine just put together another truly impressive showcase. With over 70 titles big and small in the two hour long video, we at DXP thought it would be nice to find the best spooky picks for those who can't watch the whole thing. All of them looked awesome. These are just a handful of our favorites:
---
Hellcard
While you may sometimes trust in the heart of the cards, in Hellcard you're going to have to trust in… something not the heart. A roguelike deckbuilder that doesn't look too unlike Diablo in a way, Hellcard has you playing as one of a few characters and building a deck of cards to battle monsters with. You'll be stuck in the center of the screen, and along the way you'll be attacked by monsters that you'll have to fight. You can also team up with some buddies if you're worried you can't take on the monsters alone.
If the art may look familiar to you, this is because Hellcard is part of the Return 2 Games series made by Thing Trunk. It's the third game in the series, following top down hack and slash Book of Demons and its turn-based tactic games sequel Book of Aliens. Hellcard will be taking place in the same universe as Book of Demons, so it all looks like papercraft. It also all looks awesome, so that's good too.
Hellcard is being developed by Thing Trunk. It will launch on PC in Q2 2021. You can add the game to your wishlist here.
Hell Architect
Keeping with the general theme of Hell, Hell Architect is another game set in Hell. Only this time you're managing it. The game puts you in the role of a devil as he builds up hell and finds ways to torture the souls trapped there. Also the whole game looks cute, but contains plenty of bloody violence and upsetting deaths. Simply, you probably don't want to go to Hell in this world. Or any world really, but especially not in this one.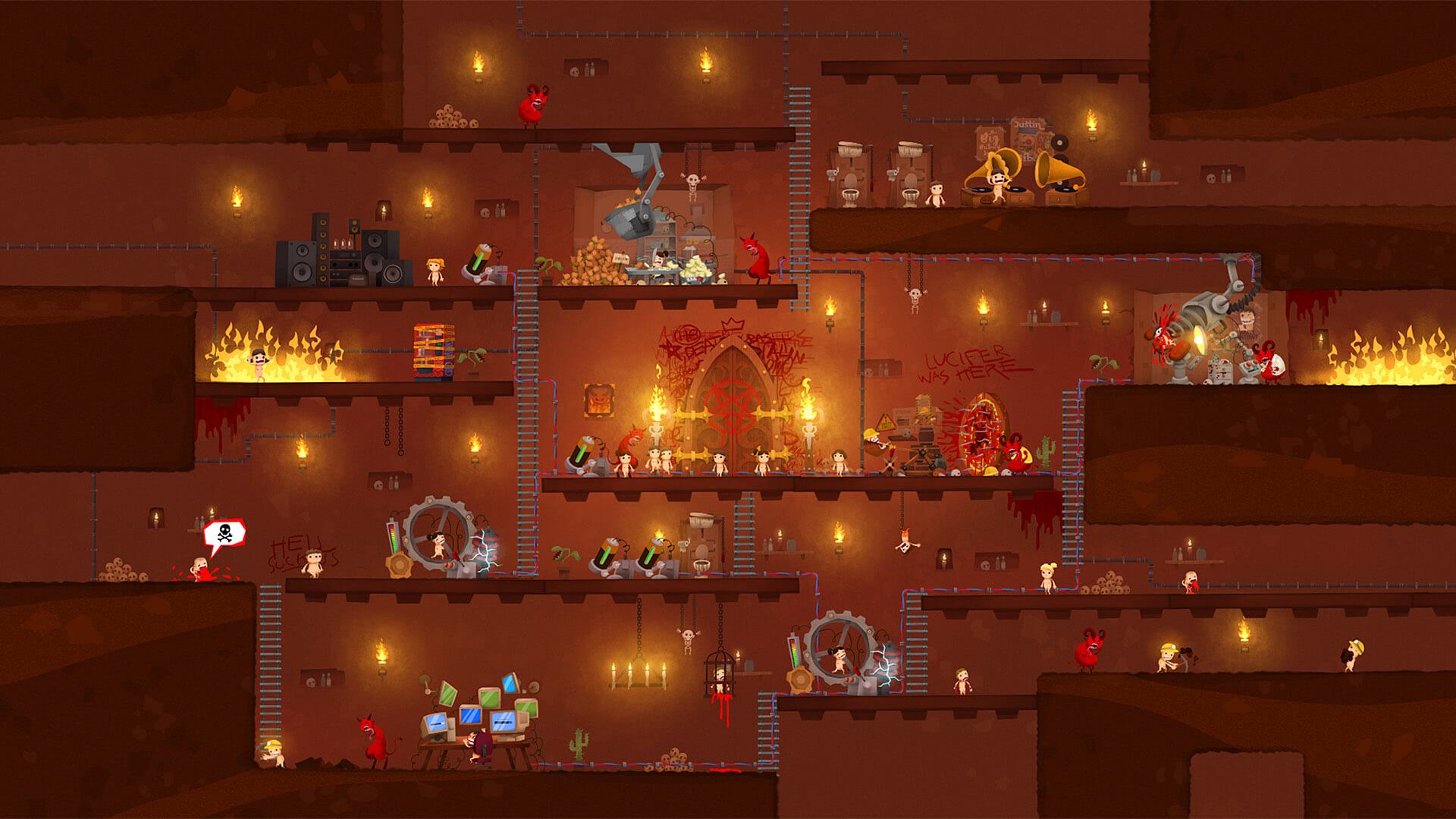 If the game seems like your jam, it'll be hitting Kickstarter later this month, so you have a chance to support it. Do so, and you too can build the Hell of your dreams, giving you plenty of elaborate torture devices and ways to get as much work out of the eternally dammed as possible. All you need to do is whip them around a bit. It's a good time.
Hell Architect is being developed by Woodland Games and is set to release some time in 2021. You can add it to your wishlist here.
Militsioner
There's nothing more terrifying than knowing the police are after you, especially if you maybe committed a small crime or two. In Militsioner there is only a single cop after you. The catch is that he's a 50+ foot tall giant that can just easily reach across the world and pick you up. Your goal? Escape from the town before the giant police officer can get you to confess to the crimes you may or may not have possibly did.
The concept is already interesting enough, but there's something just so simply unsettling about getting the attention of a giant police officer, watching him stare at you, then watching as he calmly stands up and picks you up like you're a toy. You can try to find ways to escape him, but even if the Militsioner is far away he can close the gap in seconds. Hopefully you can make an escape of some kind.
Militsioner is being developed by Tall Boys and does not currently have a release date. You can add the game to your wishlist here.
Paradise Lost
It's safe to say that World War 2 was pretty much the worst time for nearly everyone involved. However, what if the Nazi's decided to take the entire world out with them? In Paradise Lost the war goes on 20 years longer and ends with Nazis nuking everyone. You play as a 12 year old boy who finds a Nazi bunker hidden away in Poland. While it seems to be abandoned, it does contain what looks like a highly advance futuristic city. Now the kid needs to figure out what happened, and try not to die in the progress.
The combination of World War 2 imagery and future tech has always been appealing, and so it's not much of a surprise that Paradise Lost manages to pull this together so well. The game really looks like it's trying to be something special, and from the trailer alone I was already pretty interested in exploring more of the world that the game would have to offer.
Paradise Lost is being developed by PolyAmorous, and is set to release some time in 2021. You can add the game to your wishlist here.
Black Legend
It sure seems 17th century Victorian cities are prone to deadly fogs that bring out the worst kind of monsters. Just like the one in Black Legend, where you need to help defeat this fog through the use of turn-based tactics. You'll explore the city of Grant and try to figure out why an alchemist named Mephisto started up the fog currently covering it. Also, you'll recruit a team of mercenaries to help you out in all of this.
As you may figure by that, this means sometimes you'll have to kill things. You can equip your mercenaries and train them in various classes that can help you survive and gives you various cool skills, ranging from muskets to black powdered bombs to smoke grenades. Hopefully you don't fall to the fog as well, but that's always a possibility when madness is a thing.
Black Legend is being developed by Warcave and does not currently have a release date. You can add the game to your wishlist here.